Thinking of Starting an Exercise Plan? Here's What You Need to Know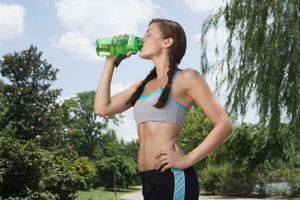 By Robert Ehrman, MD
One of the best things you can do to get happy and healthy is to get active! Making exercise part of your daily routine is an easy way to lower your risk for many diseases, and help yourself feel better. When you're just starting out, following a few simple rules will help you avoid injury and enjoy your new activities even more.
What are the benefits of exercise?
Being physically active is good for your body in many different ways. Here are some of the ways you can improve your health with regular exercise:
Physical activity burns calories, so exercise can help you get to a healthy weight and stay there.
Regular exercise keeps your muscles strong and makes your balance better—this can help you avoid falls and other injuries as you get older.
Being active gives your immune system a boost—this can help prevent you from getting sick or help you get well faster.
Exercise keeps your bones strong and your joints healthy.
Regular exercise can help ease everyday aches and pains and make your body feel better overall.
In addition, people who exercise regularly tend to feel better about themselves and their lives. This is important, because having a healthy mind can help keep your body healthy. For example, feeling good about yourself and having a positive outlook on life makes it easier for you to keep exercising and make other healthy lifestyle choices.
The safe way to start exercising
If you're new to being physically active, there a few things you need to do before you start exercising. The first is to talk to your healthcare provider about your plan. You need to do this so you can be sure that it's safe for you to be more active. Once you've been given the green light to get active, then next thing you should do is make a plan! This includes:
Picking the activities you want to do, such as jogging, walking with friends, riding your bike, taking a class at your gym, or just running around with your kids.
Building a support system—tell your friends and family about your plan. Better yet, ask them to join you! It'll be easier to stick with your plan if you have people who can help you along the way.
Setting goals, and keeping them realistic. For example, when you start out, try to exercise 10 minutes a day 3 days a week. Once you've been doing that for a few weeks, increase the amount of time you're active each day, or the number of days you're active each week.

According to experts, your goal should be 30 minutes of activity, 5 days a week (150 minutes total each week).
How to avoid injury
When you're new to exercise, or if you haven't been active for a while, there is always a small chance that you could injure yourself as you get started. However, experts say that you can lower your risk of injury by following these 5 tips:
Don't exercise in extreme weather—this means staying inside if it's very hot, very cold, or if it's snowy and icy.
If you've had an injury in the past, avoid activities that put a lot of stress on that part of the body.
Use proper and safe equipment. For example, make sure your shoes fit well when you run or that you wear a helmet when you ride a bike.
Start slow! Doing too much, too fast can wear you out physically and mentally.
Talk to your healthcare provider before you start exercising to make sure that you don't have any medical problems that might make you more likely to get injured, such as problems with your feet, knees, or hips.
Being physically active is good for your body and it's good for your mind. Make the choice to get started today, and you can be on your way to a happier and healthier life.