#DiabetesChat TWITTER PARTY!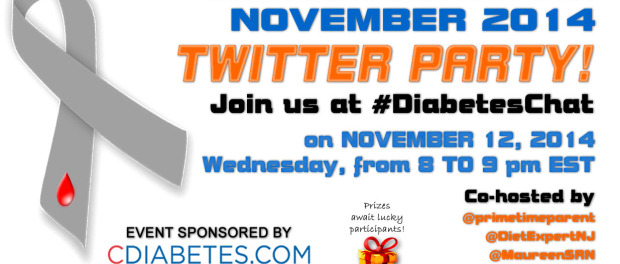 CDiabetes.com, home of the Costco Online Diabetes Magazine, is hosting a #DiabetesChat Twitter party with some great prizes for people with diabetes. Visit: http://cdiabetes.com/diabeteschat-twitter-party-nov-2014.
Have an Iphone? Visit us at iphonediabetes.com.
Prizes are:
(1) A Microlife® Deluxe Arm Blood Pressure Monitor, with Advanced blood pressure AVERAGING technology. It is available exclusively at Costco for $39.99. A similar model with the same features would sell for up to $100.
(10) Bottles of trunature® Advanced Strength CinSulin®, 170 Capsules
(10) Copies of The Popular 2015 CalorieKing Calorie, Fat & Carbohydrate Counter by Allan Borushek, Registered Dietitian.
(10) Portable smart phone chargers for all phones, sponsored by trunature®
(2) Costco Gift Cards worth $50.00, sponsored by trunature®
(20) Colgate Total Advanced Whitening TP tubes + 360 Toothbrushes
This discussion is sponsored by CDiabetes @cdiabetesinfo and @DiabetesINFL, and will be co-hosted by Erin Palinski Wade (@DietExpertNJ), Maureen Sullivan (@MaureenSRN), and Esti Berkowitz (@primetimeparent).
Please join the conversation via twitter and use the #DiabetesChat hashtag. Make sure to also follow @cdiabetesinfo, @diabetesinfl, @DietExpertNJ, @maureenSRN and @primetimeparent so you don't miss a thing!
Join the party from 8pm EST-9pm EST on Wednesday, November 12, 2014!