Are Electronic Cigarettes Safe?
By Staci Gulbin, MS, MEd, RD, LDN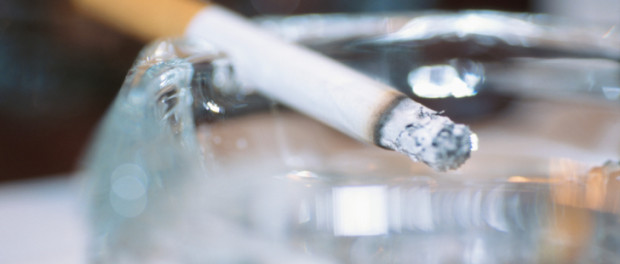 The American Heart Association says that smoking is the main cause of early death that we could prevent.  Smoking raises blood pressure and increases risk of heart disease. Some people use fake cigarettes known as e-cigarettes, or electronic cigarettes, to help them stop smoking.  It may seem that "fake smoking" would certainly be healthier than smoking cigarettes, but new research has shown that "e-smoking" may be just as bad as smoking for heart health.
Why, you may ask? Experts think it's because of the nicotine.
What is nicotine?
Nicotine is a substance found in tobacco that can be addictive (you begin to feel a strong desire to take more of it).  During the time you take it, nicotine can put you in a better mood, can decrease your desire to eat, and improve your memory.  On the down side, nicotine can speed up your heart rate and increase your blood pressure. This raises your risk of heart disease.
About e-smoking
E-cigarettes, or electronic cigarettes, were made to help smokers stop by giving them the feeling of smoking without all the cancer-causing poisons real cigarettes contain.  An e-cigarette looks just like a normal cigarette, but it only provides nicotine to the e-smoker. Experts once believed that e-smoking would be a better way to get smokers to stop than using nicotine patches, or simply trying to stop smoking "cold turkey."
E-smoking and heart disease
A new study at Brown University exposed human and rat cells found in blood vessels to nicotine. After only about six hours, tissue started to break down. The scientists think this breakdown is caused by the nicotine. They also believe that if this breakdown happens in the blood vessels of the heart, it can cause deposits of fat to form there. This can lead to heart disease. When fat deposits form in blood vessels, the vessels can harden and become narrow.  This makes it hard for blood to get to the heart.  This can lead to heart attacks, stroke, and even to death if you do not take good care!
So, what does this research mean for me?
The research team compared nicotine to a kind of "cancer of the blood vessel" that damages cells in blood vessels and makes them more at risk of hardening over time. So, even though e-cigarettes may reduce your chance of getting lung cancer, because of the nicotine they might not decrease your chance of getting heart disease. More research has to be done to confirm these findings, but it is still best to avoid exposing yourself to nicotine.
So, how can you protect yourself from heart disease?
Stop smoking: Visit www.lung.org/stop-smoking for resources to help you stop. You could join a support group or find a low-dose nicotine gum or patch that can help you stop smoking in the way that works best for you.
Eat a healthy, balanced diet: Fruits, veggies, whole grains, and lean protein such as low-fat dairy, lean meats, or beans should be a part of your daily meal plan to help provide your body with the nutrients it needs to be healthy.
Stay active: To keep your heart strong be active at least 30 minutes each day, most days of the week.Whether you jog, walk, swim, bike, dance, or just move around a lot while doing yard work or house work, any way you can stay active each day is great for your heart health!
Maintain a healthy weight: If you eat healthy and stay active, it is going to be easier to get to and stay at a healthy weight.  Being at a healthy weight lowers your risk of heart disease.
Visit your doctor often: Visit your doctor each year, or more often if you already live with a chronic disease such as heart disease or diabetes. Your healthcare provider can help you change your lifestyle habits and medicines to help you gain control over your heart health!
Reviewed by Robert Ehrman, MD
Reviewed by Fran Daniel, MPH