Henry Winkler: Overcoming High Cholesterol
Written by Alan Braverman, Reviewed by Robert Ehrman, MD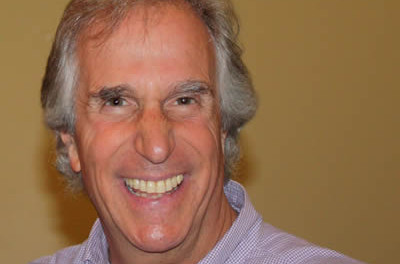 ---
Editor's Note:  This article came out in one of the previous issues of our magazines and the information has not been updated.
---
To young adults (and their parents) who grew up in the 1970s television sitcom character Arthur "The Fonz" Fonzarelli of "Happy Days" fame was the living, breathing definition of "cool." The Fonz had it all: Women adored him, and everyone tried to imitate him.
Over the years, Henry Winkler, the celebrated actor, director, and producer who played Fonzie, has parlayed that fame into a number of important roles in Hollywood. These have included helping educate the public about such important issues as cerebral palsy and dyslexia  in children.
This year, Henry continues his commitment to important causes as the spokesman for the American Heart Association's "The Cholesterol Low Down." He's working to get people to take an active role in managing their heart health.
Nearly 105 million Americans age 20 and older have blood cholesterol higher than it should be. More than half that number are women. Research shows that if everyone lowered their cholesterol by 10 percent, the number of people with heart disease might drop by as much as 30 percent.
Lifestyle modification (watching what you eat and engaging in physical activity) is the first important step to help lower cholesterol levels and help prevent heart disease, but many people also need medication.Less than half the people qualified are being treated, and among those who are prescribed treatment, only about half are still taking their medication six months later.
HENRY'S MOTIVATION
Five years ago, Winkler found out that, like so many Americans, he had high cholesterol. At 277 mg/dL, his doctor told him he'd have to do something about it.
So, Winkler worked on how he ate and how he exercised. He gave up eating too much pizza and started doing lots of walking. On quiet weeks (that is, when he's not on television), he walks at least three times per week. His number of weekly walks shoots up to eight or nine if he knows he's going before to be in front of a camera which, any actor will tell you, adds about 10 pounds.
Now he's proud of his cholesterol number. It's steady at about 137.
"If I can do it, anyone can," Henry explains. "It's not a question of radically changing what you eat or how you live. It's all about moderation. And, it's so easy."
Henry's inspiration for getting involved in the AHA's efforts is his mother, who had a stroke in the 1980s. Over the next 15 years she never fully recovered, and Henry reports, her quality of life never really improved.
According to Henry, his mother was typical in that she never took the time to care for herself."The concept of having a 'heart-to-heart' with her doctor about heart health and cholesterol simply never occurred to her. Today, though, there is no excuse. Heart disease takes the lives of so many Americans. We simply have to sit up and take notice."
Studies show that high levels of total cholesterol and LDL cholesterol in the blood are major risk factors for coronary heart disease (CHD).
Nearly 13 million Americans have CHD, and more than 500,000 will die of it each year.Every 26 seconds an American suffers a coronary event, and someone dies of one every minute. Heart disease costs the nation nearly $230 billion per year in medical expenses and lost productivity.
Cardiovascular disease, including CHD, is responsible for about one-third of all deaths annually worldwide (nearly 17 million deaths). It's the main cause of death in all developed countries and has emerged as a prominent public health problem in developing countries.
WHAT TO EXPECT AT YOUR "HEART TO HEART"
Although it may seem daunting, it's easier than you think to bring up the subject of heart health with your healthcare provider. In fact, he or she may even thank you for it.
According to Winkler, it's the simplest conversation to start."All you have to do is say to your doctor, 'I want to know about my heart health.'They'll take it from there."
Your healthcare provider will either take a blood sample from you right in the office or, depending on what kind of insurance coverage you have, send you to a local lab to have the blood sample drawn. Based on that sample, your provider will find out what your various cholesterol levels are.
After that, you'll either have a follow-up conversation by phone or in person, where you'll learn what your blood sample revealed and what, if anything, you need to do to improve the situation.
In some cases, changing the way you eat and the amount of physical activity you do will do the trick. And, in other cases, medication may be prescribed, as well.
Whatever the outcome, Henry and the experts from the AHA urge you to get in touch with your health care provider and start the conversation.
If you think paying attention to heart health will take away from your regular routine, consider what Henry's been up to in the past five years. He's acted in or done voice-over work in eight films, produced more than 10 television specials or series—including Hollywood Squares—and is a frequent guest on FOX's Arrested Development. But no matter what he's up to, Henry finds the time to take care of his health.
"It is so simple to call your doctor, have a heart to heart, and put your mind at ease about your heart health," Henry concluded."Because heart disease, unlike other diseases, is completely preventable if you just pay the smallest amount of attention, and your heart is definitely worth the smallest amount of attention."
The AHA's Cholesterol Low Down is a free program that urges people to visit their doctors and learn about their cholesterol numbers and other factors that may put them at risk for heart disease. For more information, please visit the American Heart Association's website, www.americanheart.org.