Weight-Lifting May Lower Diabetes Risk In Asian Populations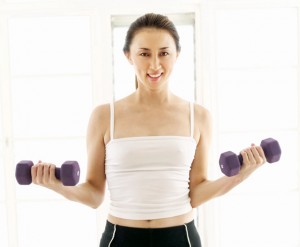 Recently, we reported that Asian Americans have a higher risk of type 2 diabetes at lower weights. This means that people of Asian descent do not have to be obese or severely overweight to have problems with their blood glucose levels, insulin sensitivity, and A1C, like most Caucasians do. With this in mind, researchers have been looking for ways to lower diabetes risk in this unique population.
For five years, a team of scientists at the National Center for Global Health and Medicine in Tokyo, Japan, looked at health data from almost 27,000 men and women in Japan. The subjects were between 30 and 64 years old, and none of them had diabetes at the start of the study. Each of them was asked how much time they spent strength training every week. By the end of the study, 1,770 people were diagnosed with diabetes, and BMI (body mass index) did not seem to be a major factor. And, those who reported weekly strength training were much less likely to get diabetes, regardless of other risk factors like blood glucose levels and body weight. While many studies have shown that cardio exercise (like running, walking, swimming, and dancing) can help people avoid type 2 diabetes, very few studies have shown the benefit of strength training, especially for Asian populations. Regardless of your ethnic background, however, most people can benefit from strength training. To work more of it into your week, try:
Lifting weights
Doing body-weight exercises like squats, push-ups, pull-ups, and crunches
Using strength training machines at the gym
Taking a yoga, Pilates, or plyometrics class
Doing more house or yard work
Standing up when you work at the computer or watch TV
This study was published in the Journal of Diabetes Investigation.