Exercise Research Offers New Tips For Getting Fit and Improving Your Health
By Staci Gulbin, MS, MEd, RD, LDN, Reviewed by Robert Ehrman, MD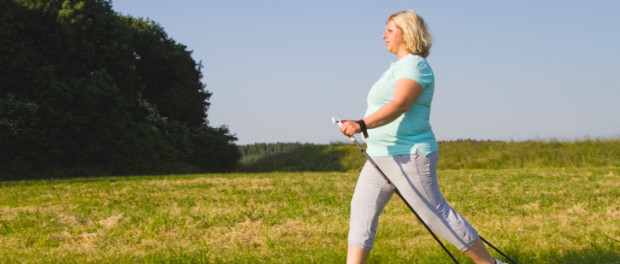 Do you feel like you need to work out for long hours every week to get in shape? Does the thought of working out make you want to curl up in your bed and give up on getting fit? Well, think again! A review on fitness research has found that the key to getting fit and staying fit is working out harder, not longer.
What is "intensity"?
The Mayo Clinic defines intensity as the way you feel during a workout and how hard your heart is working during a workout.
At low intensity there is no sweating and you can talk normally.
At medium intensity you start to sweat and your breath quickens, but you can still talk.
The high intensity that can cut your workout time in half involves a lot of sweating, rapid breathing, and no talking.
The fitness research
The most exciting fitness research from 2013 found that it is not how long you work out, but how hard you work out that matters most.
One study involved out-of-shape volunteers who ran on a treadmill at very high intensity for four minutes, three times a week, for ten weeks. This short and sweet workout managed to increase the endurance of the volunteers by about 10-percent and improve their blood glucose and blood pressure levels.
Another study found that people who walked briskly at 17 minutes per mile lived longer than those who walked at 20 minutes per mile during their workouts.
Perhaps the most important study in this review found that six months of regular exercise at a moderate level can reshape your genes and muscle cells for the better. The changes in our genes may lower our risk of heart disease and diabetes.
What does this research mean for me?
Get moving! This research debunks the myth that you have to work out for hours upon hours to be in shape.  Now, any excuses you may have come up with to avoid working out and getting fit are no longer valid!
This is not to say that working out harder will be easy. But you don't have to worry: you can increase your workout intensity one step at a time.
Step one: Start working out at an easy level. Walk on a treadmill, take a swim aerobics class, or ride a cycling machine at a low level.
Step two: As your workouts get easier, start to make them more of a challenge. Increase your speed while walking or jogging, perform aerobics with light-weight dumbbells in each hand, or take a spin (cycling) class.
Step three: Before you know it, you will be working at an intense level, or 90-percent of your aerobic maximum level. At this level you can work out harder, not longer, and get the same health effects of hour-long workouts!
Before you start any exercise program, it is important to talk with your healthcare provider about whether it is safe for you to do so. They can also tell you what types of exercise are best for you. If you have certain medical conditions, like problems with you heart, lungs, or joints, it may not be safe for you to do high intensity exercise. But remember, doing any physical activity (high or low intensity), is much better than doing none at all!
The bottom line
By breaking a sweat for a short time each day, you can help get your blood pressure and blood glucose on track quickly!